Hey all~, I'm missing like 10 senior members profiles. I need to get them in like ASAP ><;
People I'm still missing:
Ele, Sel, Des, Tay, Kevin, kasumi, lauren, Sany and Fallen (somehow, i lost the skype version so retype it for meh ;D), etc
Here is a demo version that u guys need to follow, so that the profiles will fit in the frame. It looks something like this: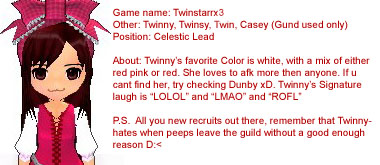 So Type in the Profiles under this post along with a host/Url link of you character closeup (frontal view preferred) DO NOT GIVE ME A CHARACTER SNAPSHOT!, reason because snapshot's resolution is too low and ur closeup will be blurred
Deadline: July 26, Monday
Any profiles posted after Last date will not be included in the website until further noticed
Remember, Profiles can be as creative as it can be, because it is your own. Have fun!
Twinny